The Executive

The District of Northamptonshire and Huntingdonshire is monitored on behalf of the Supreme Council by the Sovereign Grand Inspector General, V. Ill Bro John Booth.
An Inspector General of a District holds an administrative appointment by Patent from the Supreme Council which confers on him "the charge and supervision" of all the Chapters in his District. The Inspector General is the representative of the Supreme Council in his District and is broadly responsible for upholding the authority of the Council and the dignity of the Order.
The Inspector General appoints A District Recorder as the only other part of the Executive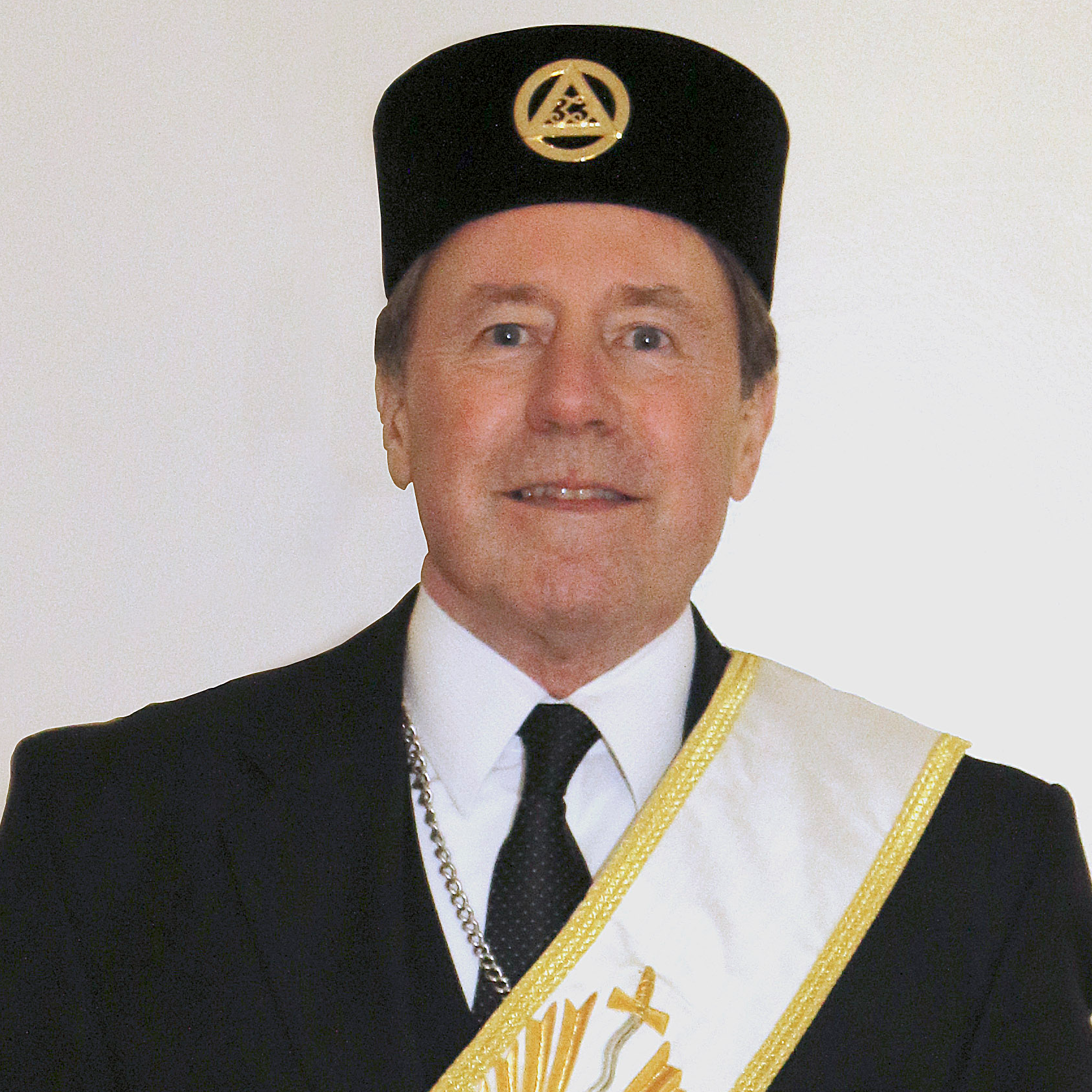 V. Ill. Bro. John Booth 33°Sovereign Grand Inspector General
Northamptonshire & Huntingdonshire
Inspector General – V Ill Bro. John Booth 330
My journey into Freemasonry began in 1996 when I was Initiated into Abington Lodge L8041.
Having served as Master for this Lodge on two occasions, I have also held the office of Almoner and I am currently Charity Steward and Assistant Director of Ceremonies.
My journey through Masonry has seen me also being Exalted into Abington Chapter C804I in 2005. I have progressed through the Chair and have just completed a year as Immediate Past Zerubbabel.
I was Perfected in 1999 into Thomas a Beckett Rose Choix Chapter and felt very much that this was a part of Freemasonry that I really enjoyed. After holding the Office of Most Wise Sovereign in 2006, I immediately became Assistant Director of Ceremonies and have always played an active part in this role before advancing to Director of Ceremonies.
It was an honour to be promoted to 31st Degree in 2017 and in that same year I took the office of Director of Ceremonies for the Higher Degrees Chapter, Castle Ashby. Well that was it, I had arrived at a place that I felt was perfect. My next far flung ambition was possibly going through the Chair of Castle Ashby in the next 10-15 year, more a dream really………
In the summer of 2019, I was selected to become the new Inspector General for the District of Northamptonshire and Huntingdonshire. I was surprised, inspired, in awe, delighted and honoured for this appointment. I have now been installed in this position on 6th December 2019. I hold a 5 year Patent for this Office.
At the time of writing the ink is still wet on my Patent and this is the beginning of a delightful opportunity and I am looking forward to being of service to my District and encouraging others to join this Christian Order of Freemasonry.
I have run my own Independent Financial Adviser practice since start up 26 years ago and will continue with this for the next 5 years.
My hobbies are Tennis, I am Chairman of my local tennis club and play for the men's second team in various leagues, Keep Fit, Travel, History, socialising and a few non-Masonic Treasurer's positions with a few local organisations keep me busy.
Ill. Bro. Ian McLachlan 31°District Recorder
Northamptonshire & Huntingdonshire
District Recorder – Ill Bro Ian McLachlan, 31˚
The District Recorder is the only other member of the District Executive.
While the role of Inspector General is that of command and leadership, that of the District/Group Recorder is administrative and secretarial. As such the District Recorder is a Brother who has the requisite qualities for this responsible office.
Ian was initiated into the Dr Oliver Lodge in Peterborough in 1995 and now holds Past Provincial Grand Rank and London Grand Rank, he is also a Mark Master Mason and Royal Ark Mariner, and Member of the Royal Order of Scotland. He was Perfected into the Good Intent Rose Croix Chapter in 1997 attaining the Chair of the Chapter in 2004 and was promoted to the 30th Degree in 2005 and the 31st Degree in 2019. He joined Castle Ashby Higher Degrees Chapter in 2007.
He was appointed as the District Recorder in 2019.
Ian is now retired after serving 23 years in the Royal Air Force and a further 24 years as a member of Cambridgeshire Constabulary. Married to Maureen, his hobbies include Gardening, Caravanning and exploring India.
Ian's contact details may be found in the Downloads section of the site.
This is a Masonic Website, operating under the authority The Supreme Council 33˚ For England and Wales and its Districts and Chapters Overseas
© 2020 Rose Croix District of Northamptonshire & Huntingdonshire.
All rights reserved